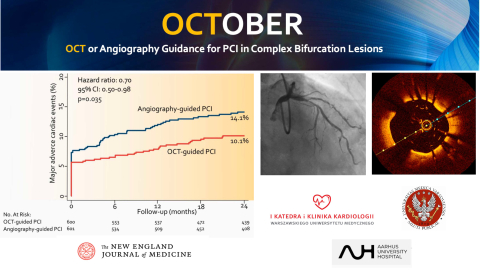 The study was conducted at the 1st Department of Cardiology MUW, and the results were announced at the just-concluded congress of the European Society of Cardiology.
Until now, in coronary angioplasty procedures for difficult bifurcation lesions (associated with bifurcation), x-ray control has been the standard. Our researchers have demonstrated that in such a situation, instead of x-ray, it is worth using OCT, that is optical coherence tomography, which gives an intravascular 3D image. This improves the quality of the procedure and reduces the risk of death, myocardial infarction and repeat revascularization by 30 percent. For the first time, we have hard clinical evidence that intravascular imaging improves the survival of patients undergoing angioplasty.
The study was published in NEJM - one of the most cited medical scientific journals in the world.
The project was carried out at the 1st Department of Cardiology MUW, headed by Prof. Marcin Grabowski. The team: Łukasz Kołtowski, MD, PhD, Prof. Janusz Kochman, Dr. Dorota Ochijewicz, Dr. Maryna Zaleska.