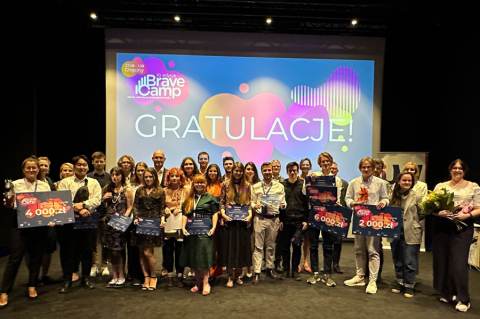 The BraveCamp is an initiative organized by the University of Warsaw Incubator. It is attended by MUW and UW students who want to develop their business idea and gain additional competencies in the broad field of entrepreneurship. The 10th anniversary edition attracted 21 participants, including six from our university. Four of them qualified for the grand finale, which took place on September 1. Medical student Szymon Hajduk won a special prize for his design of an application to help infertile men monitor and control the therapeutic process.
This year's edition of the BraveCamp was held from August 27 to September 1 in Chęciny. Male and female students trained under the guidance of professional trainers-practitioners, thanks to whom they were able to thoroughly work through their idea so that it could turn into a concrete project in the future, and then, for example, into a startup.
The culmination of the week-long academy was a gala, during which 11 people presented the result of their work. From among them, the jury selected the winners. First place and a grant worth PLN 6,000 was won by Karol Pierzchała, a physics student at the college of Inter-Faculty Individual Studies in Mathematics and Natural Sciences UW (MISMaP), and his project for an intelligent duvet - Brusleep. Karol Pierzchała also won the audience award and the alumni award of previous BraveCamp editions. Second place and a grant of PLN 4,000 went to Justyna Tylutki, a student at the Faculty of Management UW with her project toast&go - Breakfast waiting for you along the way. Third place and a grant of PLN 2 thousand went to Piotr Grajewski, a doctoral student in psychology at the Doctoral School of Social Sciences UW with his project Digital Psychology - a platform for promoting mental health in the context of the impact of technology and the digital world.
MUW representatives in the grand final
Kinga Dziobiak, a medical student with a project - Repeta-bot used to test the knowledge of male and female medical students by creating personalized tests;
Bartosz Bunar, a medical student at MUW and a biotechnology student at  the MISMaP College UW with a project - LeafBody - a startup developing green chemotherapy production technologies to help cancer patients receive the best therapy at the lowest price using a plant;
Belgutei Tsevegmed, a medical student at MUW and a computer science student at the MISMaP College UW with the project - Flashspark - an application to generate flashcards based on text, PDF, photo or recording;
and UWRC Ltd. special award winner Szymon Hajduk, a medical student with a project - Spermwise - an application designed to help infertile men monitor and control the therapeutic process.
The BraveCamp jury included Prof. Paweł Włodarski, Vice Rector for International Relations, Development and Promotion MUW; Dr. Michał Kurzelewski, Medical Director at Pfizer Poland; Katarzyna Szczudlińska-Urban, Head of Technology Talent Services at Nordea; Krzysztof Gulda, board member at UWRC Ltd., Agnieszka Postula, PhD, Professor at  the Faculty of Management UW; Karolina Wilk-Tryjanowska, co-founder at see.community, platform manager at ff Venture Capital.