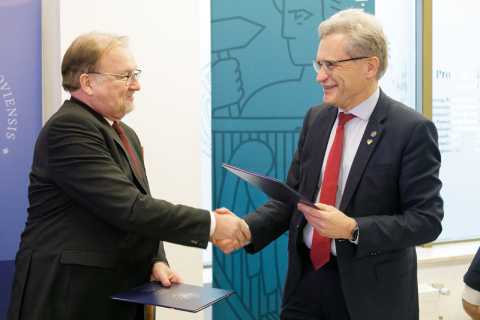 On January 20 of this year, Medical University of Warsaw and Warsaw University of Technology signed a cooperation agreement. The document sets a strategic framework for joint activities between the universities, which are leaders in their fields in Poland.
The document was signed by Prof. Zbigniew Gaciong, Rector of MUW, and Prof. Krzysztof Zaremba, Rector of Warsaw University of Technology. The main goal of the agreement is to identify strategic research areas and develop cooperation between scientific teams. The universities also want to work together to increase the scale of application of the effects of scientific activity in the biotechnology industry and clinical activities.
- The University of Technology is an ideal partner for us - admitted Rector Zbigniew Gaciong. - Modern medicine is modern technologies, the University of Technology offers modern technologies. We very much hope that we will achieve very concrete benefits from this cooperation, but cooperation makes sense only if both partners gain from it.
The signing of the agreement and the joining of the strengths of the research teams and the potentials of the technical facilities of the two universities are expected to support the participation of MUW and Warsaw University of Technology scientists in international projects and foster the acquisition of funds for research, development and implementation work. MUW and Warsaw University of Technology scientific teams will also jointly prepare publications in national and international scientific journals as well as participate in seminars and conferences. Joint academic programs are also planned, as well as exchanges of scientists, staff and students.
- The fields we represent interpenetrate, they are complementary - noted Rector Krzysztof Zaremba. - Medicine needs representatives of the world of technology, we, in turn, need the challenges posed by medicine. The plans are huge, and I hope that this cooperation will flourish and bring us many interesting scientific results. We also plan to cooperate in the field of didactics.
The agreement states that MUW and Warsaw University of Technology are entering into strategic cooperation "taking into account the multidisciplinary approach to innovation creation processes and the integrated management of innovation activities, from discovery in basic research, through the development of an idea in development activities to the stage of commercialization of a finished product, and the fact that R&D activities are nowadays dominated by partnership and network models, built around scientific and technological clusters, with significant participation of pharmaceutical and biotechnology companies (...)."
Prof. Piotr Pruszczyk, Vice Rector for Science and Technology Transfer MUW added: - I am convinced that together we can achieve more, in various areas, such as data analysis, or the application of artificial intelligence to assist in making diagnoses in various clinical situations. Biomaterials engineering is also an area where together we can achieve more. In this situation, one plus one can be more than two.
The signing of the agreement was accompanied by a presentation of scientific projects conducted by researchers from MUW and researchers from Warsaw University of Technology, in which there is a possibility of potential cooperation between the universities.