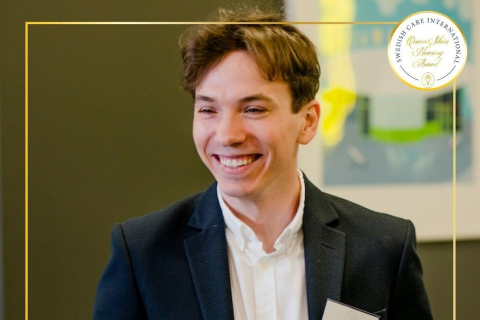 Maciej Pasek, who is studying nursing at MUW, became a finalist for the Queen Silvia Nursing Award Poland. His project - the Voice Assistant application - made it to the best six.
This was the 7th Polish edition of the competition for nurses and nursing students. It was attended by 200 people. Candidates prepared innovative projects for application in health care, especially in the care of the elderly.
The application invented by Maciej Pask is designed for smartphones and is aimed at dementia patients. The voice assistant has three functionalities: an individual patient account, a multimedia library (divided into thematic sections: greeting, meals and pharmacotherapy) and real-time voice messages. All functionalities are tailored to the severity of the dementia process. In the Voice Assistant, for example, messages such as these can appear: "Hey mom, it's a pleasure to speak to you, I hope you had a good night's sleep, I'm going for a walk with the dog now, I wish you a good morning. I'll get back to you."
- The idea for the app was born out of my observations when I was helping a neighbor take care of her husband who had Alzheimer's disease - says Maciej Pasek. And he explains how his project translates into benefits for patients: - Using this app increases the patient's and family members' sense of security, reduces stress, maintains voice contact with loved ones, and sustains social ties and participation in family life.
The positive effects of Voice Assistant can also be felt by medical personnel. A better-functioning, calm patient makes nurses more comfortable at work. They are less stressed, more patient and tolerant, and have a greater sense of security.
The Queen Silvia Nursing Award competition has an international character. Its parallel editions are held in Sweden, Finland, Germany, Lithuania, the University of Washington in the US and Brazil. The event is supported by Her Majesty Queen Silvia of Sweden. The results are announced on December 23, HM Queen Silvia of Sweden's birthday.
Of the 6 finalists in this year's Polish edition, the winner was Dominika Rachwal. Her project "Rediscover the World!" involved the creation of polysensory panels that can be mounted on patients' beds in the hospital.
For more information, visit fb