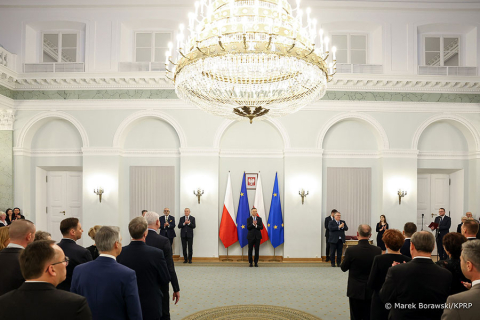 On December 15 this year, the President of the Republic of Poland Andrzej Duda handed professorial nominations. Among the newly appointed were the academic staff of the Medical University of Warsaw.
The nomination acts were awarded to:
Prof. Aleksandra Banaszkiewicz, head of the Department of Pediatric Gastroenterology and Nutrition UCC MUW
Prof. Dorota Agata Bomba-Opoń from the 1st Department of Obstetrics and Gynecology MUW
Prof. Tomasz Stokłosa, head of the Department of Tumor Biology and Genetics MUW
Prof. Artur Stolarczyk, head of the Department of Orthopedics and Rehabilitation MUW
During the ceremony, which took place at the Presidential Palace, 69 academic teachers and employees of science and art received professorial nominations.
Photo: Marek Borawski/ KPRP