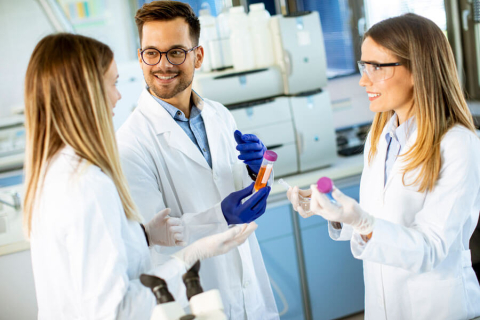 Erasmus+ is a European Union support programme that enables students and employees of universities from member countries to improve their competences and gain international experience. This academic year 2022/2023, students, PhD students and staff from the Ukrainian medical universities with which agreements under Erasmus+ have been signed (or will be signed) have been given the opportunity to participate in the programme. This is a form of aid for war-torn Ukraine, the painful consequences of which are also being experienced by the universities.
The funds for this purpose have been obtained thanks to the special efforts of the authorities of the Medical University of Warsaw (WUM). Among other things, the efforts of representatives of our university have contributed to the European Commission (at the request of the Foundation for the Development of the Education System) awarding money for the participation of the Ukrainian universities in the Erasmus+ programme in Poland.
To date, five PhD students from the Bogomolets National Medical University (NMU) in Kiev have come to us. They are carrying out their internships as part of their doctoral theses in the Clinic of General, Transplant and Liver Surgery, the 2nd Clinic of Obstetrics and Gynaecology, the Department and Clinic of Otorhinolaryngology, Head and Neck Surgery, the 1st Clinic of Anaesthesiology and Intensive Care and the Clinic of Cranio-Maxillofacial Surgery, Oral Surgery and Implantology. Arrangements are being made with the NMU for the arrival of a further five students. In the near future, two physicians and a physiotherapist from the NMU will undergo a three-week training course in medical rehabilitation at our site who will stay in a WUM flat fixed up by sponsors and furnished by our community. Five students and PhD students will also come from Ivano-Frankovsk and five PhD students from Ternopil. Universities from Lviv and Poltava have also expressed their desire for academic exchange with the WUM. 
 
The Ukrainian medical universities interested in an academic exchange with the WUM are invited to contact Lidia Przepióra-Dziewulska from the WUM Department of International Cooperation at: lidia.przepiora@wum.edu.pl.