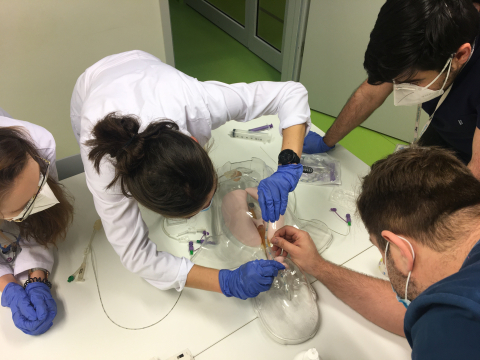 Since last year, the first holistic program to educate future physicians in medical nutrition has been successfully conducted at the Medical University of Warsaw.


Its validity is emphasized by the results of a survey conducted, inter alia, among the students of MUW. During the medical studies as part of compulsory classes, even one in five students and doctors working in hospitals did not come across the topic of enteral and parenteral nutrition. At the same time, 75% of those asked saw the need to implement a mandatory course dedicated to clinical nutrition or additional classes as part of the current curriculum.
- Malnutrition is a disorder defined by the International Statistical Classification of Diseases and Health Problems and, like any disease, requires prompt diagnosis and treatment tailored to the specific clinical situation and individual needs of the patient. Despite the fact that malnutrition may be a direct cause of increased risk of infectious complications, prolonged period of convalescence (including e.g. longer wound healing), higher cost of treatment and more frequent repeat hospitalizations as well as higher mortality - it is not always recognized in patients in Poland and is even less frequently treated. Contrary to the general opinion, this is not a topic for nutritionists only - it requires a holistic approach and the involvement of a multi-specialist team. Therefore, without hesitation, we decided to introduce a unified didactic program, thanks to which future medical staff leaving the walls of the university will be prepared to independently undertake nutritional interventions and improve the quality of medical care in this area - explains Andrea Horvath, MD, PhD, rector's plenipotentiary for educational programs at MUW. 
By finishing the course, students will have obtained new specialized skills - they will be able to recognize the types of malnutrition, identify its causes and consequences, as well as initiate appropriate nutritional support and monitor the nutritional status of the patient. The program focuses on practical classes, during which students learn to implement various methods of enteral feeding on special phantoms. 
Studies show that more than 30% of patients present varying degree of malnutrition on admission to the hospital, and in another 20-30% of patients the condition worsens during hospitalization. So this is a significant problem. The Nutricia Foundation is the initiator of the clinical nutrition program addressed to the medical universities.