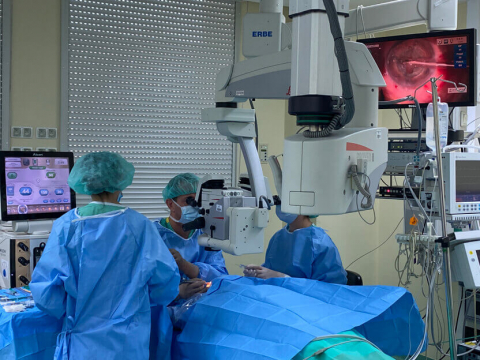 During the nationwide conference "EPE - interdisciplinary aspects of modern medicine in medical theory and practice - Ophthalmology" organized within the framework of the European Educational Program, the surgeries were broadcast live from the Independent Public Clinical Ophthalmology Hospital MUW. They were viewed by 410 ophthalmologists!

Ophthalmology MUW, the director of the hospital. This was the cataract extraction with simultaneous placement of the anti-glaucoma implant. The procedure uses the latest technical and medical advances provided by the femtosecond laser and Preserflo anti-glaucoma implant.
During the second surgery, performed by Magdalena Korwin, MD, the patient had her eyeball removed and an orbital implant placed at the same time. Being able to have two procedures at once will ensure a shorter rehabilitation period and also will allow for the most favorable aesthetic results.
Broadcasts from the operating rooms were supplemented with comments from the surgeons, and the participants had the opportunity to ask questions, which additionally provided valuable knowledge about the performed procedures.
At the hospital, many surgeries are recorded and entered into a database, which can later be used by resident doctors during their specialization.
The composition of the surgical teams:
Surgeons: prof.  Jacek P. Szaflik, MD, PhD, Magdalena Korwin, MD
Surgeon's assistants: dr Karolina Pielak, dr Dorota Kowalewska
Coordinator: dr Tomasz Gałecki
Anesthesiologist: dr Renata Herc, dr Danuta Zielińska-Prus
Operating nurses: Agata Rostkowska, Anna Walendzik, Martyna Soból, Anna Prościńska, Magdalena Starobrat-Zgudka
Anesthesia nurses: Alina Wielgo, Dorota Kuleta
Ward nurse: Iwona Iwan, Grażyna Hałacz
Sterilization-Technician: Agata Gołębiewska