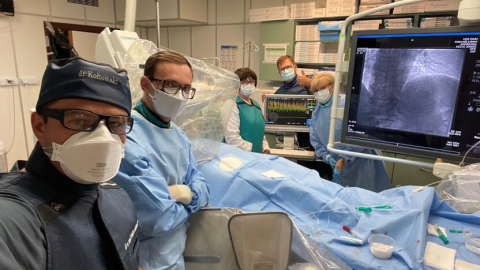 Specialists from the 1st Chair and Department of Cardiology of the UCC MUW started the program of the so-called functional diagnostics of the coronary microcirculation. It can detect changes in the smallest arteries of the heart and determine whether angina is caused by microvascular disease. This is a key moment in the diagnostic process.
Coronary angiography, which evaluates the status of the epicardial coronary arteries, is a standard test in the diagnosis of coronary artery disease.
However, it turns out that the coronary arteries make up only a portion of the myocardial circulatory system, with the remaining 90 percent being formed by the microcirculation. Extending the diagnostic with the assessment of microcirculation is indicated in patients with stenocardia symptoms, in whom no changes in the coronary arteries are found (so-called INOCA and MINOCA syndrome) - says Łukasz Kołtowski, MD, PhD.
The assessment carried out by specialists allows, in addition to diagnosis, to determine the pathogenesis of the disease, this in turn provides the basis for the inclusion of appropriate treatment. The results of randomized trials indicate that the use of appropriate pharmacotherapy can improve the condition and reduce the symptoms experienced by the patient.
The first microcirculation diagnostics procedure was performed on August 23 by a team consisting of Łukasz Kołtowski, MD, PhD, Mariusz Tomaniak, MD, PhD,  Iwona Wyszomirska, MA, Ewa Brauła, MA, and Tomasz Badylak. Modern diagnostic equipment was used to accurately assess the changes in the heart's arteries.
The microcirculation diagnostics program is carried out within the Invasive Cardiac Laboratory of the 1st Chair and Department of Cardiology of the Medical University of Warsaw.