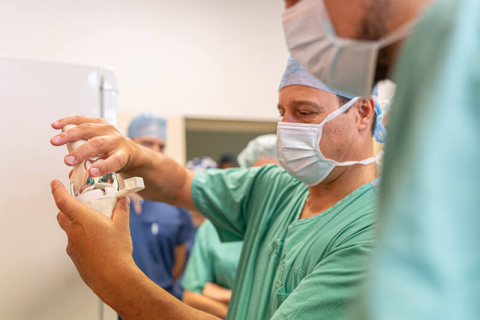 A 57-year-old patient underwent knee replacement with preservation of the posterior cruciate ligament in the Department of Orthopaedics and Rehabilitation of the Medical University of Warsaw. The implant was prepared to perfectly fit the patient's bone. This was the first such surgery in Poland.
A pioneering procedure using a tailor-made endoprosthesis was carried out in Międzylesie Specialist Hospital, under the direction of Artur Stolarczyk, MD, PhD. Knee endoprosthesis implantation was performed on a patient suffering from osteoarthritis that caused destruction of the knee joint. The implant, prepared in 3D in the United States on the basis of a computed tomography scan with an accuracy of 0.1 mm, was perfectly matched to the bone structure of the patient. The applied solution will allow for better reconstruction of knee biomechanics in comparison to standard techniques and will make it possible for the patient to be more active after the surgery. The doctors predict that in three weeks the patient will be able to move without crutches, and after a six-week rehabilitation he will return to full fitness. The operation was successful, and the patient was able to walk on the day of the operation.
The procedure was preceded by training sessions with orthopedists from Austria, the USA, England, Belgium and France.